Fue Hair Transplant in Turkey
Are you tired of dealing with thinning hair or a receding hairline? Meet one of the most popular and revolutionary FUE hair transplant in Turkey! This state-of-the-art technique is painless and yields fantastic results. With accelerated hair growth and shortened healing time, you'll be looking like your best self in no time. Our satisfied patients can attest to the effectiveness of this method. Don't settle for less than perfect locks, book your FUE hair transplant Antalya, Turkey today!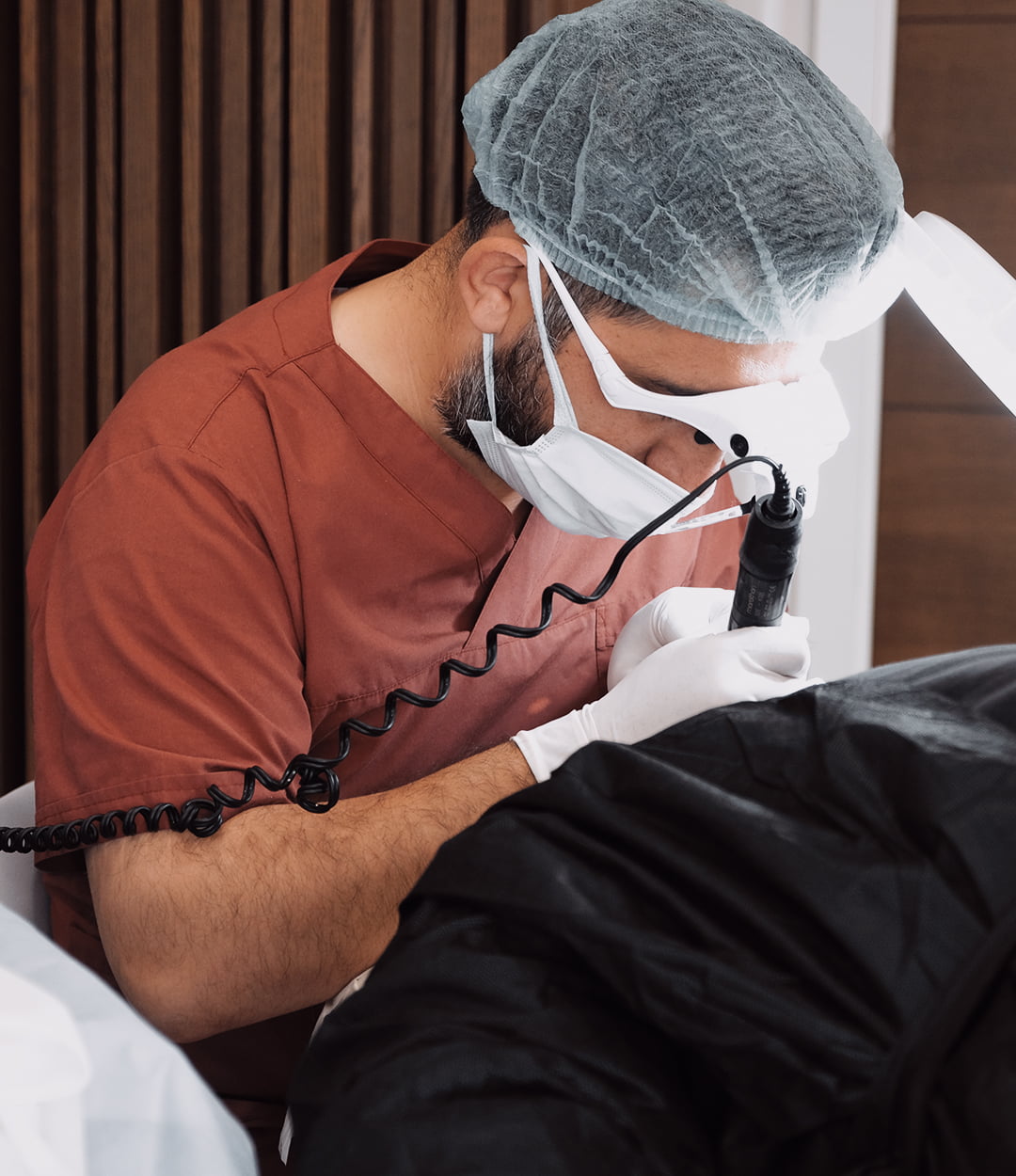 Who is a good candidate for Fue Hair Transplantation?
First and foremost, any healthy man or woman can be eligible for the procedure.
During the initial examination, a skilled specialist will determine if hair follicles are alive or if a temporary loss has occurred. If necessary, treatments can be recommended to strengthen the hair follicles.
While the transplantation is not considered a surgical intervention, some precautionary measures are taken, such as performing blood tests. Unfortunately, individuals with pre-existing conditions such as Heart Disease, Diabetes, Liver Failure, High Blood Pressure, or Renal Failure are not able to undergo this procedure. So, if you're in good health, you may be a wonderful candidate for hair transplantation!
How Fue Hair Transplant in Turkey works?
In the Follicular Unit Extraction hair follicles are taken one by one with micro punches that create scratches with a special tip 0.6mm – 0.8mm in diameter under local anesthesia, and placed in the bald areas, taking into account the natural hair exit angle and direction. The The key to achieving successful results in this process is the creation of tiny channels in the sowing area – directly aligned with the follicles' original angle.
Every collected graft typically contains 2-3 follicles, and an average session can harvest between 8,000 to 12,000 hair follicles (4000-6000 grafts). The entire process takes approximately 5 to 7 hours, with the timeline dependent on the area's extent. So, don't hesitate any further, if you have a balding problem – be sure to explore obtaining the Follicular Unit Extraction method today! One of the most important issues to be considered in hair transplantation is that it is applied in hospital and operating room conditions.
In FUE method the planted area has been previously marked and determined. A channel is opened in this area and transplantation is made according to the size and direction of the hair follicle.It is possible to transplant 50 – 60 hair follicles per square centimeter, depending on the number of roots and opening.
TIME TO SEE FULL RESULTS AFTER HAIR TRANSPLANT IN ANTALYA, TURKEY
CHECK OUR HAIR TRANSPLANT BEFORE AFTER GALLERY !
FUE Hair Transplant Revovery
Fast and efficient recovery time for FUE method.
Spillage may occur within the first month, but external contact protection is easy with bandages during the first week
Simple and straightforward washing process with special lotion and shampoo in the first 10 to 15 days, followed by regular shampoo
Hair starts forming at 80% between 6 to 8 months
Hair reaches full, natural, and bushy state within a year
Fue Hair Transplant Advantages and Disadvantages
| Advantages of FUE | Disadvantages of FUE |
| --- | --- |
| Minimally Invasive: FUE involves small, individual follicle extraction, reducing the need for large incisions. | Time-Consuming: The procedure can be time-consuming, especially for a large number of grafts. |
| No Linear Scarring: FUE leaves tiny, dot-like scars scattered across the donor area, avoiding a linear scar. | Higher Cost: FUE procedures are often more expensive compared to traditional methods. |
| Quicker Recovery: Typically, FUE has a faster recovery time, with less discomfort and a quicker return to normal activities. | Limited Grafts per Session: The number of grafts that can be extracted in a single session may be limited. |
| Versatility: Suitable for various hair types, including curly or coarse hair, and can be used for eyebrow and beard transplants. | Skill-Dependent: FUE requires a high level of skill, and results may vary based on the surgeon's expertise. |
| Less Postoperative Pain: Patients generally experience less postoperative pain and discomfort. | Potential Transection: There's a risk of damaging follicles during the extraction process, leading to lower graft survival. |
| Natural-Looking Results: FUE allows for a more natural distribution of hair follicles, avoiding a "pluggy" appearance. | Shaving Donor Area: The donor area needs to be shaved for better visibility during the extraction process. |
| Minimal Donor Area Discomfort: Patients often report minimal discomfort in the donor area after the procedure. | Risk of Overharvesting: Extracting too many grafts from a limited donor area can lead to thinning in that region. |
| Suitable for Scarred Scalps: FUE can be a viable option for individuals with previous linear scars from other surgeries. | Not Ideal for Extensive Baldness: FUE may not be suitable for individuals with extensive hair loss requiring a large number of grafts. |
FUE Hair Transplant Costs
The cost of Follicular Unit Extraction (FUE) hair transplant varies significantly worldwide due to factors such as the geographical location, the experience of the surgeon, the complexity of the procedure, and the number of grafts needed.
In the United States, the price ranges approximately from $8,000 to $15,000. In the United Kingdom, it can cost between £3,000 and £30,000. In countries like Turkey and India, which are popular for medical tourism, the cost can be substantially lower, often starting from around $1,500 up to $6,000. Please note that these are general estimates and the actual costs may vary.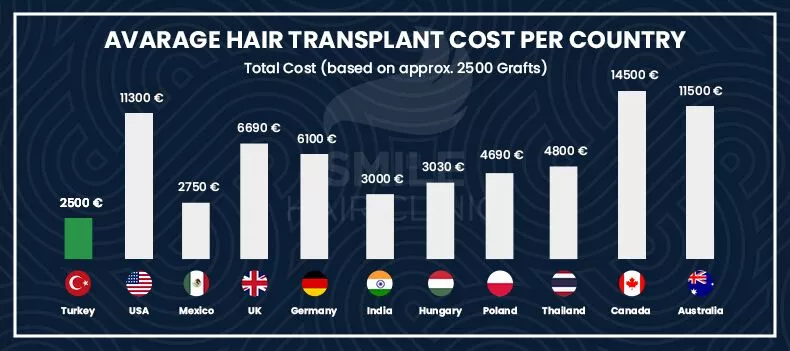 Fue Hair Transplant Cost in Turkey
Did you know that long before Turkey became the go-to destination for hair restoration, people from around the world were flocking there for a unique blend of vacation and medical treatments?
In Turkey, the average FUE hair transplant cost ranges from $1,500 to $6,000, depending on factors like reputation, location, and available packages.
Low Cost is Low Quality?
Are you hesitant about going for a hair transplantation in Turkey because of low cost? Think again! The balance between Turkish currency and major currencies like GBP, EURO, and USD is the reason for affordable pricing. You can get a top-quality hair transplant and other treatments in experienced clinics or hospitals.
Turkey has become a popular destination for hair transplant procedures due to a combination of factors that significantly reduce the cost compared to countries like the UK, USA, and Canada. Firstly, the cost of living and overhead expenses in Turkey are lower, which allows clinics to offer competitive pricing. Secondly, the high demand for these procedures in Turkey has led to a thriving industry with a large number of clinics, creating a competitive market that keeps prices down. Lastly, the Turkish government provides subsidies for medical tourism, which also helps to lower the cost of hair transplant procedures for patients.
What Is All-Inclusive Package?
All-inclusive package means that the price includes:
Airport to hotel and hotel to clinic transfers
Medications you need before, during and after surgery.
Accommodation in a 4-star or a 5-star hotel
A translator who can speak your native language.
Free online aftercare services
You can plan your journey before you land in Turkey, and you will know exactly how much you will pay for your FUE hair transplant.
FUE Hair Transplant Costs by Countries
| | |
| --- | --- |
| FUE Hair Transplant Cost in Turkey | € 2,390 – € 3,290 |
| FUE Hair Transplant Cost in UK (England) | € 6,690 – € 31,500 |
| FUE Hair Transplant Cost in United States | € 11,300 – € 26,200 |
| FUE Hair Transplant Cost in Germany | € 6,100 – € 13,200 |
| FUE Hair Transplant Cost in Spain | € 5,700 – € 15,500 |
| FUE Hair Transplant Cost in France | € 7,500 – € 15,700 |
| FUE Hair Transplant Cost in Ireland | € 6,700 – € 23,000 |
How is the Fue Hair Transplant in Antalya Turkey?
The More Hair Team is obsessed with quality and committed to providing a safe and sterile environment for all procedures. With every step of your procedure tracked and recorded for your medical file, you can trust that you will receive the most personalized and attentive care possible. And with monthly emergency and cardiopulmonary resuscitation training for all staff, you can rest assured that your safety is our top priority.
The More Clinics Turkey had many happy and satisfied patients in these years. When someone searches to find a clinic to have a hair transplant, one of the essential point is former patients and experience, We highly recommend you to check our satisfied patient's comments about us.
GET A FREE CONSULTATION!
Let's Start Planning Your Treatment %100 Guarantee Results.
WHY PEOPLE CHOSE US?
Successful clinical outcomes require a combination of medical expertise, state of the art technology and high quality care."
The More Clinics, providing Global Patients with world class medical services from over 90 countries, in 7 languages in coordination with the support offices in the USA, the UK, CANADA and ISRAEL.
More than 10.000 Global Patient Success!
State-of-art Technologies and High Quality Materials.
Globally Trusted Techniques!
More than 20 years of Experience.
Patient Rights Oriented!
Only Reasonable and Affordable Prices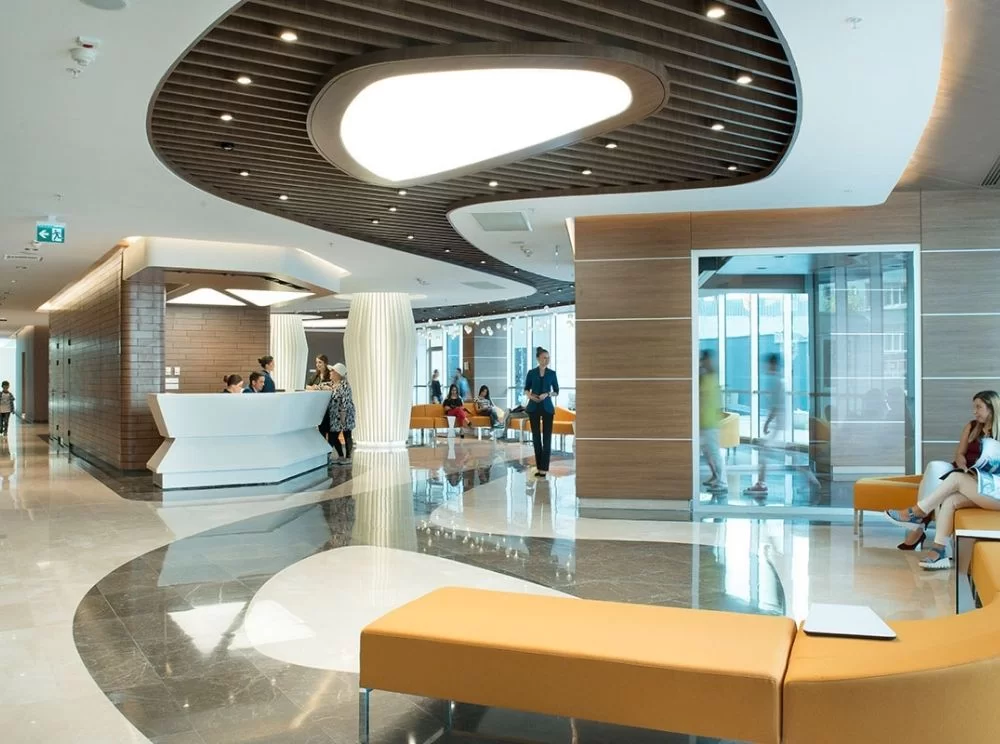 contact us
We find the proper treatment for every patient
dial now
+90 542 677 76 07