Things You Need to Know Before Visiting Antalya Guide
Antalya is an incredible destination that offers a little something for everyone to enjoy! Just make sure to book the perfect accommodation and keep the travel essentials in mind to create the unforgettable holiday experience you're seeking.
The Antalya Travel Guide by the More Clinics is designed to enhance your visit to Antalya and maximize your sightseeing experience. With insightful recommendations and expert tips, this guide will ensure that you make the most of your time in this beautiful city.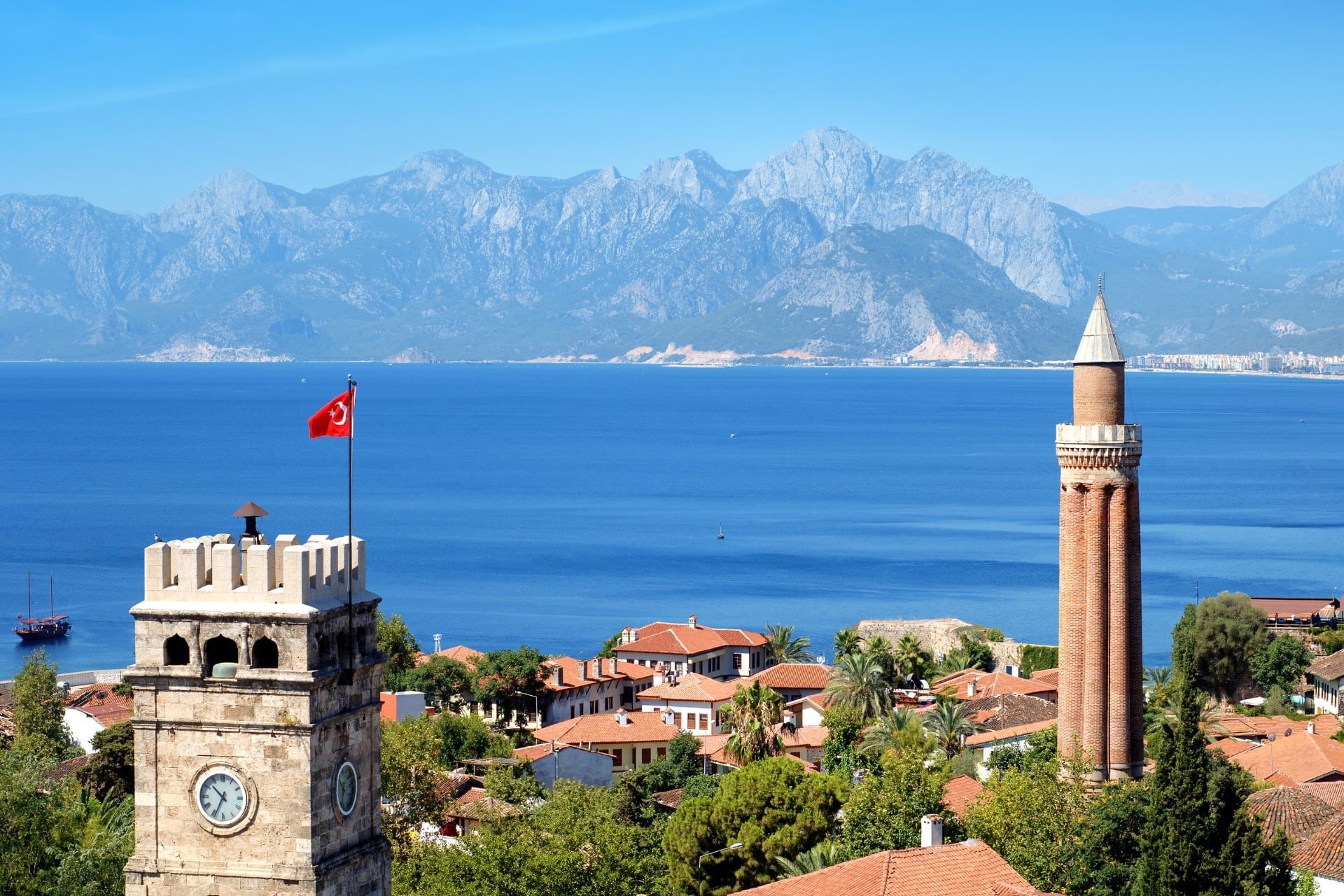 Antalya essential information:
Language: Turkish is the official language in Antalya, however English is widely spoken by locals and most signage is bilingual.
Electricity: The entire country operates on a standard electrical power of 230V and 50Hz.
Plug type: Since Antalya is located in Turkey, it uses Type C and Type F plugs, both equipped with 2 round pins. The Type F plug also features 2 earth clips on the side.
Currency: Antalya, like the rest of Turkey, uses the Turkish lira as its currency. But some hotels and businesses accept Euro or US Dollars and English Sterlins . So it's always a good idea to carry both types of currency with you.
Visa requirements: Access to Turkey requires a valid passport, however travelers from certain countries may require an e-visa or visa on arrival. Please ensure to review the visa requirements.
International dialing code: The international dialing code for Antalya is +90.
Emergency telephone number: In case of emergencies, dialing 112 will connect you to all necessary services. However, there are shortcuts for specific services: dial 110 for fire, 155 for police, and 112 for medical assistance. All these numbers are free to call.
When is the best time to travel to Antalya?
Antalya experiences a Mediterranean climate with hot, dry summers and mild, rainy winters. The ideal time to visit largely depends on your preferences. Summer, from June to September, is the peak tourist season, with temperatures ranging from 30°C to 35°C. The ambiance is vibrant and lively, and all tourist attractions and activities are in full swing.
However, if you prefer a more tranquil experience and cooler weather, consider visiting in the spring (April to May) or autumn (October to November) seasons. During these periods, temperatures hover around 20°C to 27°C, making it perfect for sightseeing and exploring the city's abundant historical sites. Remember, the sea remains comfortably warm until late November for those who enjoy water activities. Always check the local weather updates before planning any outdoor activities.
Travel Tips for Antalya
Public transport: Easy and affordable options available, no special passes required.
Tram: Connects Western Konyaalti Beach to the historic city centre, running every half hour to hour.
Taxis and ride-hailing apps: Convenient but more costly, especially at night. Popular destinations can be paid in euros.
Bus: Affordable and comfortable, with routes covering all attractions in the city. Dolmus (minibus) also available.
Car hire: More expensive but ideal for exploring areas outside Antalya.
Bike hire: Limited cycling lanes by the seashore, not very cyclist-friendly in the city.
How to get to my hotel in Antalya?
If you are traveling to Antalya from Europe or North America, there are several options available.
From Europe
Direct flights to Antalya from major European cities are plentiful, especially during the tourist season. Most major airlines, including Turkish Airlines, Lufthansa, and British Airways, offer direct flights to Antalya. Additionally, low-cost carriers like Ryanair and EasyJet also serve this route. The flight duration varies depending on your starting point, but generally, you can expect it to take approximately 2-4 hours.
From the USA and Canada
There are no direct flights to Antalya from the USA or Canada. However, you can reach Antalya by first flying to Istanbul (with Turkish Airlines, American Airlines, and others) and then taking a domestic flight to Antalya. Turkish Airlines offers several flights per day from Istanbul to Antalya. The total travel time, including a layover in Istanbul, is approximately 13-15 hours from the East Coast of the USA or Canada, and around 16-18 hours from the West Coast. Please note that the times can vary based on specific departure cities and current schedules.
What are the main places to see in Antalya?
Antalya, known as the gateway to the Turkish Riviera, is a city rich with historical sites and breath-taking natural beauty. Here are some of the main places you should not miss:
Old Town (Kaleiçi): Wander through the narrow, winding streets of Antalya's historic Old Town to experience the city's past firsthand. Visit the iconic Hadrian's Gate and explore the ancient Roman Harbour.
Antalya Museum: This award-winning museum is one of the most important in Turkey, showcasing an impressive collection of artifacts from the neighboring archaeological sites.
Düden Waterfalls: A visit to Antalya wouldn't be complete without seeing the spectacular Düden Waterfalls, located just a short distance from the city centre.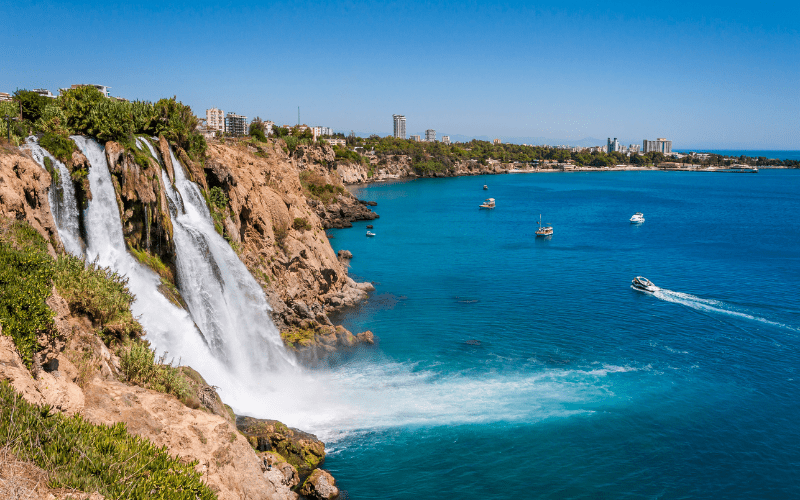 Konyaaltı Beach: One of Antalya's most popular beaches, Konyaaltı is the perfect place to relax, swim, and enjoy the Mediterranean sun.
Perge Ancient City: Just outside of Antalya, the ancient city of Perge provides a fascinating look at Roman and Hellenistic architecture.
Aspendos Theatre: This incredibly well-preserved Roman theatre, located in Aspendos, is one of the best surviving examples of Roman theatre architecture in the world.
Last Words from the More Clinics Turkey
In conclusion, Antalya is undoubtedly one of the top destinations for travelers, boasting a beautiful blend of rich history, stunning natural beauty, and a vibrant culture. No matter what time of year you choose to visit, it offers something for everyone. Whether you're a history enthusiast, a beach lover, or an avid foodie, Antalya will not disappoint. So pack your bags and embark on a journey to explore the wonders of this Turkish jewel. Safe travels!