Genital Aesthetics: All You Need to Know
Genital aesthetics is gaining popularity worldwide as people seek to enhance their confidence and sexual health.
These treatments are often sought out for not only aesthetic reasons but for improved comfort during physical activities and sexual health.
Turkey, in particular, has become a go-to destination for Cosmetic genital surgeries due to its affordability and high quality of care.
What is Genital Aesthetics?
Genital aesthetics refers to surgical procedures that alter the appearance and function of the female and male genitalia for health or cosmetic reasons. These include hymenoplasty, vaginoplasty, frenuloplasty, and breast reduction, among others.
Genital aesthetic operations, also referred to as "Vagina aesthetics," "Sexual area aesthetics," "Genital beautification," and "Sexual organ aesthetics," offer a range of benefits to women. These procedures not only have psychological, hygienic, medical, sexual, and social advantages but also contribute to enhancing self-confidence, improving body image, and promoting overall well-being. By addressing individual concerns and providing tailored solutions, these operations play a significant role in empowering women to embrace their sexuality and feel more comfortable in their own bodies.
Popularity of Genital Aesthetics
As societal norms evolve, an increasing number of people are opting for genital aesthetic procedures.
Statistics from the American Society of Plastic Surgeons indicate a significant increase in the number of genital aesthetic surgeries in the United States. Between 2019 and 2020, labiaplasty procedures alone saw a 3% surge. Canada is also experiencing a similar trend with the Canadian Society for Aesthetic Plastic Surgery reporting an increased interest in these procedures.
(For more detailed statistics and reports, visit the American Society of Plastic Surgeons and the Canadian Society for Aesthetic Plastic Surgery.)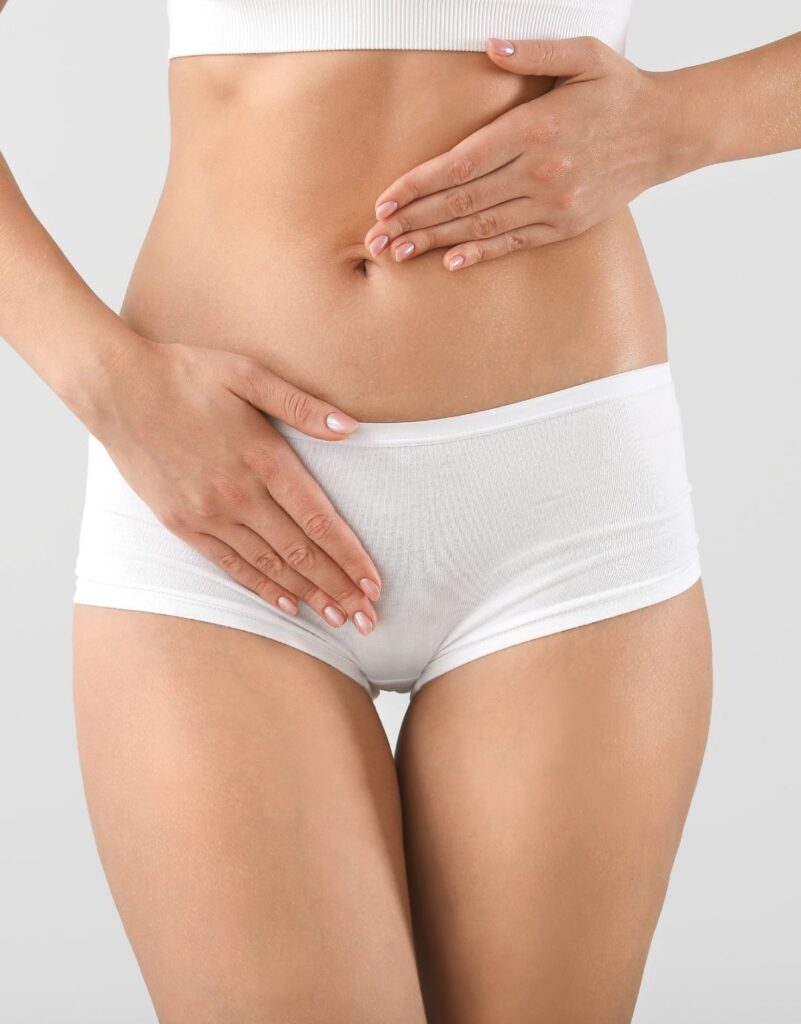 What are Genital Aesthetics Types
Both surgical and non-surgical vaginal cosmetic procedures are available to reshape and enhance the appearance of the female genitalia.
Labiaplasty: This procedure reduces the size of the inner or outer labia, improving comfort and aesthetic appearance.
Vaginoplasty: Often referred to as vaginal tightening surgery, this operation aims to enhance sexual sensation and satisfaction.
Perineoplasty: This procedure focuses on improving the aesthetics of the perineum, the area between the vagina and anus.
Clitoral hoodoplasty: A surgery that corrects the skin foldings over the clitoris, enhancing sensitivity and sexual pleasure.
Puboplasty: This procedure is done to improve the aesthetics of the pubic region.
Labiaplasty: This procedure reduces the size of the inner or outer labia, improving comfort and aesthetic appearance.
Monsplasty: This surgery reshapes the mound of skin above the pubic area for a more symmetrical look.
Vulvoplasty: a procedure that enhances comfort and aesthetics, is gaining popularity due to its transformative benefits.
Hymenoplasty: Often called "revirgination," this procedure restores or repairs the hymen and is popular in many cultures.
Genital PRP applications: Also known as the O-shot ©, this non-surgical treatment uses platelet-rich plasma (PRP) to rejuvenate the genital area and intensify sexual pleasure.
Non-surgical Vaginal Tightening: This procedure, often done with laser vaginal rejuvenation techniques, aims to tighten the vagina without the need for surgery.
Laser Bleaching Therapy for Genital Area: This therapy uses laser technology to lighten the skin in the genital area, improving its aesthetic appearance.
Genital Radiofrequency Applications: These non-surgical procedures use radiofrequency waves to tighten the skin and stimulate collagen production in the genital area, improving its appearance and sensation.
What Are the Purposes Of Genital Aesthetic Procedures?
Genital aesthetic procedures serve various purposes, including:
Addressing Functional Concerns: Certain conditions can cause discomfort during sexual intercourse, physical activity, or even when wearing certain types of clothing. Procedures such as labiaplasty can rectify these issues, substantially improving comfort and quality of life.
Enhancing Self-esteem and Body Confidence: Individuals may feel self-conscious about the appearance of their genitalia, which can impact their sexual relationships and overall mental wellbeing. Undergoing genital aesthetic procedures can help alleviate these concerns and promote a healthier body image.
Restoration Following Significant Life Events: These procedures can cater to individuals seeking restoration following significant life events such as childbirth or injury. For instance, vaginal rejuvenation can restore the vagina's functionality and appearance post-childbirth, while procedures like hymenoplasty can be performed for cultural or personal reasons.
In essence, the purposes of genital aesthetic procedures are as diverse as the individuals who seek them, ranging from enhancing sexual health and function to improving aesthetics and boosting self-confidence.
Genital Aesthetics Risks
Like any surgical procedure, genital aesthetic operations carry certain risks and complications. Here are some common ones:
Infection: Although uncommon, post-operative infections can occur. According to the International Society of Aesthetic Plastic Surgery (ISAPS), the rate of infection is around 1-2%.
Bleeding: This is a common risk associated with any surgical procedure. During genital aesthetic surgeries, the risk is estimated to be less than 1%.
Altered Sensation: Some patients may experience temporary or permanent changes in sexual sensation. The risk varies but is generally low, with some studies indicating a rate of less than 5%.
Dissatisfaction with Cosmetic Outcome: Not every procedure results in the desired outcome. Around 10-20% of patients may express dissatisfaction with the aesthetic results, according to ISAPS.
Patients should have a thorough discussion with the surgeon about these potential risks before deciding to have the procedure.
Genital Aesthetics in Turkey
Turkey offers affordable and high-quality genital aesthetic operations. With experienced medical professionals and state-of-the-art facilities, it's an ideal destination for these procedures.
Turkey's status as a popular destination for genital aesthetic operations is due in large part to its specialist medical professionals who are renowned for their experience and expertise in the field.
In addition to this, the country's state-of-the-art medical facilities are equipped with the latest technology to ensure high-quality service. Furthermore, Turkey's healthcare costs are significantly lower than in many other countries, making it an affordable option without compromising on quality. The country is also geographically advantageous, being at the crossroads of Europe and Asia, making it easily accessible for patients across the globe.
Last Words from The More Clinics
Genital aesthetic procedures are wide-ranging, designed to enhance both the physical appearance and function of the female genitalia. These procedures can address functional concerns, boost self-esteem and body confidence, and help restore the body following significant life events. As always, a thorough discussion with the surgeon about potential risks is crucial before deciding on any procedure.
At The More Clinics, we specialize in providing personalized care for all your genital aesthetic needs. Our team of skilled surgeons and caring staff ensure you receive the best possible care during your surgical journey. Trust us for your genital aesthetics needs in Turkey. Contact us today to find all the answers to your questions and concerns!
GET A FREE CONSULTATION!
Let's Start Planning Your Treatment %100 Guarantee Results.
Medically Reviewed by Dr. Gökhan Bacak who specialized on Medicine and Plastic Surgery